Topic: [HELP] Driver TSSTCorp CDDVDW TS-633A
First, I'm so very sorry, because I didn't good English, I'm from Indonesia..

I've a problem with the CD DVD Rom like this image..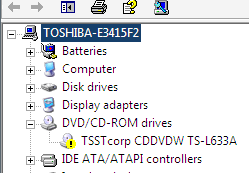 I'm using Windows XP Profesional SP2 Version 2002, install on Toshiba Notebook L-510
I try update driver with DPs_BASE_8125, but it's can't solve the problem.
Can you help me??
Thanks alot..
Regards,
Billy